Our Story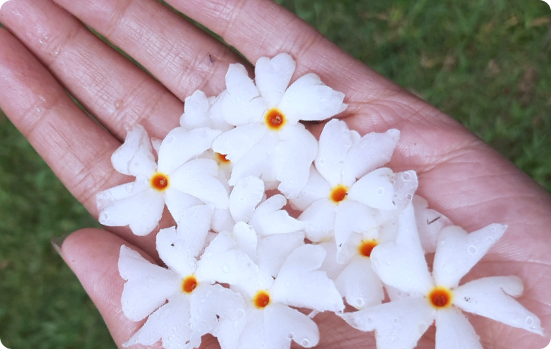 Sepalika was founded in 2016 by Sharda Agarwal – a veteran marketing professional – and Mahesh Jayaraman – a holistic medicine expert.
For eight long years, Sharda had suffered daily debilitating migraines. She popped pills, took medical tests, and consulted specialists, but nothing worked. Then she met Mahesh. Within four months of his program, her migraines disappeared completely.
Deeply inspired, Sharda teamed up with Mahesh to help others like her. And that's how Sepalika was born! Since 2016, we've helped hundreds of thousands of people understand their chronic health conditions better and get started on their path to disease reversal, through our content site, Sepalika.com. Since 2018, we've worked one-on-one with over 400 people through our clinic, to help them reverse chronic health conditions including Diabetes, High Cholesterol, PCOD and others.
"Sepalika" " means night jasmine in Sinhalese. This small white flower is anti-inflammatory, anti-viral, anti-fungal and alleviates pain. This represents our philosophy: using natural, evidence-based treatments, to return you back to vibrant health and beauty.
What We Believe
Today's medical system creates dependencies on pills, which have many negative side effects. Most solutions are temporary –only suppressing symptoms and not treating root causes. This leads to deeper diseases, that emerge later.

Everyone deserves to be free of painful conditions like Diabetes, PCOD, Acid Reflux, Painful Periods, High Cholesterol and so many others. But prescription pills can do more harm than good. Instead, at Sepalika, we transform lives using delicious food, supplements, lifestyle interventions and gentle magnet acutherapy. Your body is a marvel of nature, eager to heal itself. With us, you learn the deep science of giving it the right nutrition and lifestyle, so it can.

Healing is most effective when it happens in the comfort of your home, with the safety of a no-touch system. That's why the Sepalika clinic is completely online. Your consultations are via phone calls and chats – we're always just a tap away on your phone or laptop. We track your progress in real time. You'll have fortnightly progress reviews with our medical therapists, and you can chat with us over text any time during working hours. You never have to make an appointment again for your queries! We aim to simplify the complex health map and return control back to the patients, through awareness and guidance from experts and a shared mission.